Mise à jour le 31 août 2022
Publié le 9 janvier 2022
–
Mis à jour le 31 août 2022
I am a PhD student in Cognitive Science, working at the EMC laboratory (Lyon 2 University, France) in the Cosy team (Cognition Outils Systèmes: "cognition, tools and systems").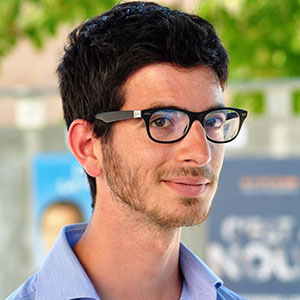 I graduated in 2013 with a Bachelor's degree in Psychology from the University of Aix-Marseille, and in 2015 with a Master's degree in Cognitive Science at the University of Lumière Lyon 2.
This is my second year as a graduate student, I'm advised by Prof. François OSIURAK (Ph.D., senior lecturer, research officer) and Emanuelle REYNAUD (Ph.D., senior lecturer).
Research
interests

My work is oriented on the following theme :
« The neural and cognitive bases of cumulative cultural evolution ».

The notion of culture is defined here as a set of acquired traits – ideas, tools, behaviors – transmitted between individuals through social learning (Mesoudi, 2011). It doesn't refer to any of the common concepts shared in our society, such as arts or literature. This is a more global definition, which includes practices that can be found in both human and other animals species.

For instance, groups of chimpanzees based on different geographic sites can develop their own set of techniques to achieve the same goal – foraging, communicating... (Boesch et Boesch, 1990 ; Humle et Matsuzawa, 2002). Also, birds of the same species can develop specific songs based on their interactions with their parents or their peers (Laland et Hoppitt, 2003), etc.

It is an admitted fact that culture can evolve through time. When an individual or a group of people find a way to improve a cultural trait – or to create another trait, more efficient than the previous one – the new version of this trait will persist across generations while the preceding one progressively disappears. This phenomenon seems more evident in human species, whose individuals accumulate progressively new cultural traits over generations, while other animals seem to regress more often. This is what is called cumulative cultural evolution (Tennie, Call et Tomasello, 2009).

The aim of the PhD is to identify the cognitive and neural mechanisms that allow us to improve our cultural traits in a cumulative way. To do so, the thesis is organized in three points:

First, we need to study the cognitive abilities that allows individuals to acquire, improve and share cultural traits in a group.
Secondly, we will seek to compare the major individual profiles emerging from the results of the previous work on a neuronal point of view, thanks to neuroimaging techniques (fRMI).

Finally, the collected data will be used for modeling, the purpose being to explain CCE based on individual characteristics of the members of a population.

Productions

Publications

Osiurak, F., De Oliveira, E., Navarro, J., Lesourd, M., Claidière, N., and Reynaud, E. (in press), Physical intelligence does matter to cumulative technological culture. Journal of Experimental Psychology: General.

Communications

POSTER:
De Oliveira, E., Osiurak, F., and Reynaud, E. Innovation strategies are guided by stakes in an unfamiliar task. Culture Conference 2017: Innovation in cultural systems: an interdisciplinary meeting. Birmingham (Royaume-Uni), May 25th-26th, 2017.

De Oliveira, E., Osiurak, F., Claidière, N., Navarro, J., Lesourd, M., and Reynaud, E. Physical intelligence does matter to cumulative technological culture. Culture Conference 2016: When and how does cumulative culture emerge? Birmingham (UK), June 9th-10th, 2016.

Teaching

2017-2018

Methodology in Psychology to 1st year undergraduate students in Psychology

2016-2017

Methodology in Psychology to 1st year undergraduate students in Psychology
Social cognition to 3rd year undergraduate students in Cognitive Science
Programming courses (Python language) to 2nd year undergraduate students in Cognitive Science

2015-2016

Programming courses (Python language) to 1st year undergraduate students in Cognitive Science

2014-2015

Methodology in Psychology to 1st year undergraduate students in Psychology
Statistics Applied to Psychology to 1st year undergraduate students in Psychology